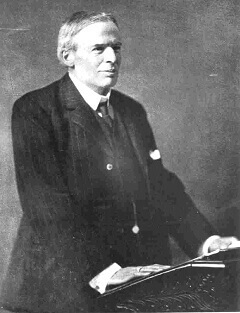 Professor Edward Granville Browne
Professor Edward Granville Browne, of Cambridge University, was the only Westerner who actually met Bahá'u'lláh. He had four successive interviews with Him in April 1890. Of his first meeting, Professor Browne had this to say:
"The face of Him on Whom I gazed I can never forget, though I cannot describe it. Those piercing eyes seemed to read one's very soul; power and authority sat on that ample brow... No need to ask in whose presence I stood, as I bowed myself before one who is the object of a devotion and love which kings might envy and emperors sigh for in vain."
He went on to record Bahá'u'lláh's own words at that same meeting:
"... That all nations should become one in faith and all men as brothers; that the bonds of affection and unity between the sons of men should be strengthened; that diversity of religion should cease, and differences of race be annulled — what harm is there in this? ... Yet so it shall be; these fruitless strifes, these ruinous wars shall pass away, and the 'Most Great Peace' shall come... Let not a man glory in this, that he loves his country; let him rather glory in this, that he loves his kind."
The following photograph shows the room where he met Bahá'u'lláh in Akka: